Calling all parents and parents to be! I have a great saving strategy when it comes to putting money aside for your little "pickney's" college fund.
Are you like me, wondering what it is going to cost for our child(ren) to go college?
When I attended, my tuition plus expenses were a little over 40K a year. That was a lot! And I am still paying for it. The tuition now in just 10 years time (tuition plus expenses) is over 63K a year!!! Like, what the ####! Imagine what it will be when our little ones come of college age? Oh, and state schools are increasing just as dramatic, even for "in-state" students.
What can we do? What are our options?
I've  thought about robbing a bank or two, if the scratch ticket investments don't pan out soon enough (they rarely do well, not for us anyways). LOL…
OPTIONS:
There are other wiser methods than the two above that I mentioned. One really solid option is looking into 529 college plans. These can be state sponsored or offered by some investment institutions. I will have another more in depth post on this strategy on a future date.
Basically, 529 Plan or 529 College Savings Plan is a way parents can save towards college cost using a tax deferred investment vehicle.
The strategy I am going to highlight, "Uguest it." Saw what I did there? I know, I know, lame. Anyways. Yes, Upromise!
Have you heard of them? Sadly, I have heard of them but never took advantage of the great benefits they offer, until recently for my little one.
I am here to prevent you from making my mistake and sign up now it is free!
Upromise essentially helps you earn cash-back sort of like Ebates. You get money back for the things you do anyways. Shopping online, going out to eat, booking trips, groceries, even drug store purchases. "You name it" (in my Shirley Caesar voice).
They are partnered with over 800 companies and you earn cash back when you make regular everyday purchases.
All you do is signup and register your debit/credit cards on their secure site and you're done! (Note: purchases made with debit cards may need to be processed as credit to earn cash back). Nothing else to do… Well, besides, spend. Once your information is linked the savings and cash-back opportunities begin.
The real beauty of Upromise is how you can apply your cash-back earnings.
Set up and fund that 529 Plan we briefly talked about by linking your Upromise account.

Pay-down your own qualified student loans automatically, you can link this too.

Get the money back directly in a form of a check.
Isn't that amazing?! No hassle, no thinking, just shop and save automatically. So, I encourage you to sign up today.
Here is a screenshot of my Upromise income report from when I started near the end of December 2016 to the end of January 2017.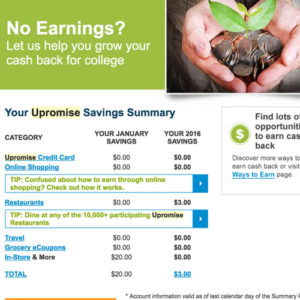 December I only made $3.00 not much at all but better than nothing, right?  As I said, I started late. My January report was increased more than 6x a whopping $20! To put it in perspective that is an extra $240 dollars a year!
Obviously, a big factor on how much cash-back you earn will coincide with how much and how often you spend in a particular month or year. But it pays to start now and to start your savings early, which is key!
Upromise also, offer free college resources to help carve a more strategic plan to save.
Finding free scholarships

Use their college calculator to really get your

number

needed to save and pay for "higher education."

College Ahead

a mobile app your teen can use as a road map to getting in the college planning mode early.
Here is the bottom line… College is only getting more and more unaffordable! There are great programs out there and it is our responsibility as the loving parents that we our to seek them out to help our households.
I mentioned two great programs when utilized together, 529 Plan and Upromise, can really be an effective savings tool for the mammoth college expenses in the future days ahead.
Hope you enjoyed the review. Please let me know if you found this post helpful.
What are some ways you plan on or have used to save for college? Name them below!