You're here because you are interested in starting a parenting blog.
You don't just want to start an ordinary parenting blog, you want to start a successful parenting blog that makes money.
It sounds pretty crazy because blogging always comes across as a nice hobby to have but nothing you should take seriously if you want to make money. I am here to tell you that it's the complete opposite.
You can do very well with a blog if you go in with the right mindset and do the right things.
Blogging isn't for everybody but it might be a great thing for you.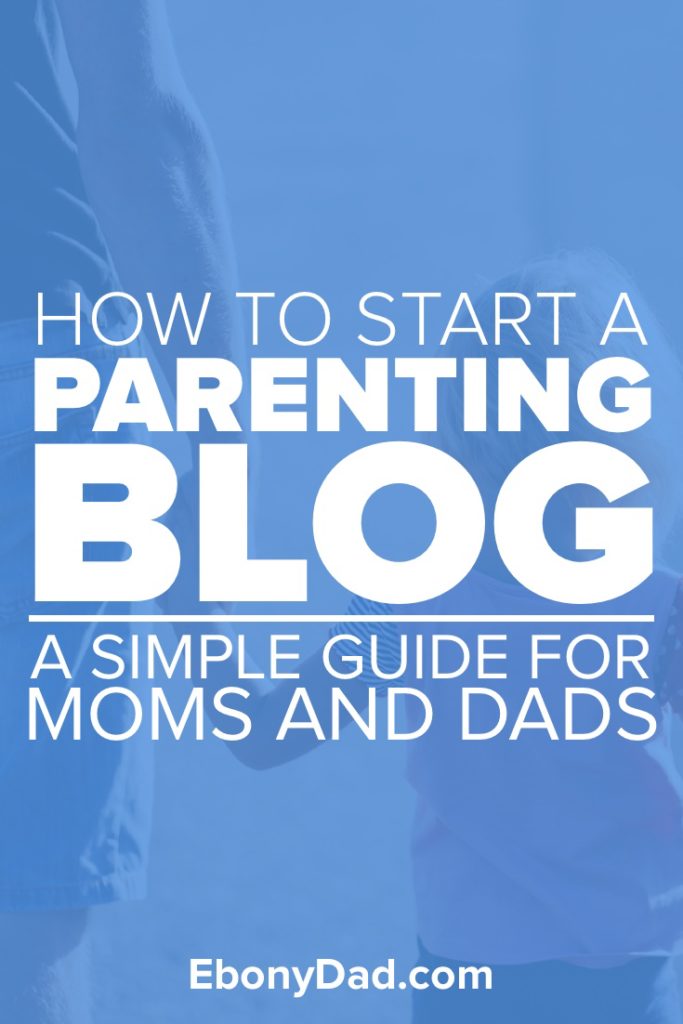 Why You Should Start a Parenting Blog
Before we dive into the actual nitty gritty of starting a parenting blog let's go over some of the reasons why you would want to consider starting one.
1. It's a Great Way to Share Your Knowledge
One of the great things about being a parent is that you go through things.
You might witness things that no other parent has witnessed and figured out how to handle it like a superhero. A blog is a great way to share your experience raising kids.
What parent isn't always on the lookout for answers to the challenges that kids bring to the table? By sharing your experience and knowledge you are helping other parents and that is a pretty good feeling.
2. It's a Great Way to Attain Knowledge
My very first blog about web design. I started it not because I was an expert at web design but because I wanted to learn more about it.
Writing about web design allowed me to see what I actually knew and improve upon my craft.
Parenting is a craft. The more you write about it the more you start to gain some introspection on things.
You also get a chance to connect with other parents that love to share their experiences with you.
It's amazing the stuff that you can pick up in your own comments section.
3. It's a Great Way to Earn Extra Money
This might be the reason why you are reading this post and let me throw in a big caveat: it's not easy making good money with a blog. If it was every parent would quit their job and start a parenting blog.
However, blogging opens up new business and money-making opportunities for you that you wouldn't get elsewhere. There are just so many ways to make money blogging.
I can't tell you the joy I get helping parents with their blogs and the happiness they share with me from being able to spend more time with their kids.
Is a Blog Really for You?
When I say that not everybody is cut out for blogging I don't mean it as an insult. It has nothing to do with intelligence and everything to do with perseverance.
Building a successful blog takes time when you are a beginner. There is a lot of knowledge to soak up over time and it can be overwhelming sometimes.
Being a parent do you really have the time to invest in making this work? Just because blogging can be done in 30 minutes a day it doesn't mean that successful blogs can be done in 30 minutes a day.
Sure, over time when you are established and have the money machine rolling you can start to take days off but at the beginning, you need to put in work.
The typical blogging journey goes like this:
Get excited about a blog idea
Buy a domain and get WordPress setup
Write a couple of posts
Spend time promoting
Tell yourself that you will work on your blog tomorrow
Go weeks without a new post
Tell yourself that blogging just isn't for you
A Mindset Shift
As you'll see, installing WordPress and writing a blog post is pretty easy and that's a problem. It's a problem because a lot of the stuff you do will not feel like work.
Because it doesn't feel like work you don't treat it like work
However, building a successful blog is no different than building any other type of successful business.
Let's say you want to start a sandwich shop and you just bought the lease. Do you take the next 2 weeks off? Do you even take consecutive days off?
Just because your blog isn't a physical location that doesn't mean it doesn't require the same attention as any other type of business.
If you look around you'll find many dead blogs lying on the ground and bloggers wishing they had stuck with it some.
Take the time and go through some successful bloggers' archives and see how slow they started off but they stuck with it.
The ones making $12,000 a month didn't get lucky. They treated everything like a business, put in work, and eventually it all paid off.
This requires a complete mindset shift for most people. You cannot just flick the switch on and off. The switch has to always be on.
How to Start a Mom Blog
Most tutorials that teach you how to start a blog simply go through the steps of finding a domain name and installing WordPress. If that's all it took to start a successful parenting blog then I wouldn't bother writing this guide.
However, there are some steps before all of that and you should spend some time doing them.
1. Browse Other Mommy Blogs
Spend some time reading other parenting blogs. I don't mean just taking a look at a couple and calling it a day.
Really take the time to dive into them. Go through their archives to see what type of posts resonate with you.
What things do you like about their blog?
What things do you think they could improve?
Who are they speaking to when they write?
It's important to get to know the landscape so you have a better understanding of how you might approach things.
2. Think About Who Is Going to Love Your Blog
The correct answer isn't "everybody".
You might not have your blog completely figured out yet but try to think about who is your ideal reader. The more specific you can get the better.
Understand Your Audience's Problems
This is a huge step that people miss.
Yes, you are starting a parenting blog for you, but your audience won't care about that. They want things that will help them so if you don't take the time to understand the problems they face then there is no way you can offer them solutions that they will care about.
How do you get to know your audience's problems when you don't have a blog?
Research.
Go and read other parenting blogs. If they have a "Most Popular" section see what type of posts are in it. If they have a comments section then find posts with lots of comments to see what people are talking about.
Starting a parenting blog is very personal but it can only be successful if you somehow relate to others. There are probably a 1,000 different problems you've solved that are no big deal to you but they are huge to other parents.
Pinterest Is Your Greatest Asset
Moms and Dads.
Get on Pinterest.
If you're already on Pinterest, set up a home on Pinterest and live in it for a couple of days or weeks.
Pinterest is your greatest source for audience research.
Why?
Because it has all of the answers for you. Every pin on Pinterest goes to a site. That means if you search for "parenting" you will be presented with thousands of pins that lead to other pins.
Even better, Pinterest tells you what type of content is really working with your audience. If a pin has a lot of repins then you know it's getting people excited.
Create a list of spreadsheet and start writing down all of the great pins that you see with 100s or 1000s of repins. If you don't want to write them down then you can either Like the pin or create a secret board solely for content research.
The more content you collect, the more you'll start to see patterns emerging. While you were very excited to write about teaching your kids to file tax returns you're starting to see that posts like that don't do very well.
The best posts for parents are ones that are actionable. Parents are coming to your blog because they need help right now! They don't need to read some theory about how to handle your son that still lives with you at age 40. They want to know the best home remedy for poison ivy.
Now Think About Yourself
You should have a nice list of questions and concerns that parents have. Go through that list and see which problems you can relate to. By doing this you'll start to understand the ideal reader for your blog.
Essentially, you are trying to write for you before you were you.
That sounds confusing so let's explain it a different way.
When you start to write it's easy to only focus on your present and future problems. It's hard to remember the steps you took to get to where you are at now.
As a mom do you remember what it felt like trying to get pregnant? The emotion? The struggle? The joy?
Do you think anybody else needs help with those things?
As a dad do you remember how nervous you were wondering if you were going to be a good father?
Do you think anybody else needs help with those things?
Bloggers tend to think that they don't have anything worthwhile to share, but if you lived a life then you definitely have something to offer. A small problem that you solved could be a huge problem for someone else.
Never undersell all of the experiences that made you who you are today.
Keep in mind that there are people that have no idea what they are doing. They are at the stage you were at before and they are looking for someone to help them get through it.
If you can't think of a specific reader that you want to write for then think about going back in time and teaching yourself. Your blog is a manual for becoming the parent you are today.
Your Audience of One
While the goal is to get billions and billions of pageviews you can't do that by trying to write for everybody. When you are starting off you just want to write for one person. All you care about is that one person that will fall in love with your blog.
This one person can relate to your words in a way that nobody else can.
This is why you are doing research about your audience because you want to find that connection. When you can find it things become a lot easier.
As a new blogger, you might be worried about finding your niche. Unfortunately, "parenting" is a niche that is too broad. At the beginning, you need to narrow it down even more.
Are you a single dad with 2 girls? Write to other single dads with 2 girls. This may seem limiting, but you'll be amazed at how quickly you start to find True Fans.
These are the people that want to read every single blog post you write. They anxiously await your next email in their inbox.
This is your audience of One.
3. Find a Great Domain Name
What to know what sucks? When you find a domain name that you think you like and after 6 months of blogging finding out that you don't like it anymore.
You can always change your domain name but also means moving your site and making sure everything redirects properly so Google doesn't start you over from scratch.
You want to make sure that you find a domain name that is going to represent you for the next 60 years.
So how do you do that?
More Research
It's like you are going back to school with all of the research that you need to do.
After finishing the previous step you should have a clearer idea of your audience and the problems they are looking to solve. From there you might be able to think of some words that represent both them and you. See if putting any of these words together helps you come up with something unique.
If you are struggling, don't hesitate to hit up Thesaurus.com to find more words to use.
Or maybe you have some words in mind that represent you.
Take a look at these domain names:
All of these are awesome domain names. Your domain name doesn't have to have mom, dad, or parent in it. It can be whatever thing that you want as long as it is the thing that you can be attached to for a while.
Some basic rules for domain names are:
It is easy to type/write
It is easy to say
When typed/written out it, it doesn't look like another word (Pen Islands' website is penisland.net)
Stick to those basic rules and you'll be okay.
Using Namevine
Depending on how much of a stickler for consistency you are you might want your domain name to be the same as your Facebook Page, Twitter, Instagram, and Pinterest.
If you start a blog called Bee Mom Bee then you might want:
facebook.com/beemombee
twitter.com/beemombee
instagram.com/beemombee
Checking to see if a domain name is available and if all of those social media accounts are available can be time-consuming but Namevine makes it easy. With Namevine you can search for all of these things with one search.
It will even provide you with alternative suggestions.
4. Setting Up Your Blog
Finally, it's time to get your blog set up.
Click here to start a blog on WordPress, then use the tutorial below for the easy directions.
Read more about why you should pay for blog hosting here.
It's recommended to start with a self-hosted site when starting a WordPress blog. Why? Here are some main reasons:
It's easy to use, follow my simple tutorials on how to get up and running below using Bluehost. I highly recommend them.
Bluehost offers technical support (take full advantage of it, I have).
You get a FREE domain name using Bluehost.
WordPress through Bluehost is FREE.
Bluehost is really affordable
And you will have more freedom when you are self-hosted, especially if you want to monetize your blog.
But, first thing first, you'll need to head on over to Bluehost to do any of this. There are many web hosting companies out there, but Bluehost is honestly one of the best. There is a reason why many bloggers choose Bluehost for their web hosting needs.
Step 2: Choose Your Hosting Package
You can click the green Get Started Now button at Bluehost to get started.
I recommend choosing the Basic starter package as that's really all you need and it's a great deal at 50% off the regular price!
Step 3: Register Your Domain Name
The next step in the process of how to start a profitable blog is registering your domain name.  A few questions I had as a beginner were:
What is a domain name? 
A domain name is simply the address of the blog (aka URL). Example, the domain of our website is Trueandpretty.com ©
How do I select a good domain name?
I had a hard time coming up with my blog name. I overthink the entire process. Don't be like me, relax remember not to overcomplicate it. In the long run, the value of your blog is in the content that you put into it. Not the name.
PRO TIP: I recommend registering your name through Bluehost since it keeps everything streamlined, and you get a FREE domain name if you purchase a 12 month (or longer) blog hosting plan (a $15.99 value).
How do I get a domain name?
You can get your domain directly through Bluehost for FREE when you sign up for at least 12 months worth of Bluehost web hosting. This is one of the many benefits of hosting with Bluehost and why we recommend it.
Once you've chosen your free domain name, the next step is simply to fill out your contact details and payment information. 
Some of the boxes on this page may already be checked, but the only option that we recommend is the "Domain Privacy Protection."  Adding this feature ensures that your personal information as the website owner remains private.
Hit submit, and congrats!  You now own your very own website!!!!!
We SURVIVED! Not to bad, right?
Note: If you're registering a free domain name, you can skip the next part and head straight to Step 4 to install WordPress.
Already have a paid domain name?

If you already have a domain name that you bought from a website like GoDaddy, you will need to connect it to your web hosting account. It's easy to connect your domain name to Bluehost, just choose the second option on the page instead of registering a new domain name.

Follow these instructions to connect your GoDaddy domain to Bluehost.

How to modify, add or delete name servers (DNS) for your domain(s):

Log into the GoDaddy.com Account Manager.
From the Domain Name drop-down menu or the Manage Your Account list, select Manage Domains.
Using the checkboxes, select the domain name you wish to modify and then click Set Name Servers.
Enter your updated name server information in the spaces provided under the blue Name Servers heading on the right side of your page and click Save Changes at the bottom. Your entries should look like this: ns1.bluehost.com; ns2.bluehost.com

You will then need to select the domain name you bought (such as through GoDaddy) as an Add On Domain through your Bluehost cpanel. Click on Domain Manager, then select "Assign a Domain to Your cPanel Account". Follow these steps and it is very easy!
Step 4: Install WordPress
Since you have now purchased your Bluehost hosting package and chosen your domain name, the final step is to Install WordPress.
Bluehost just made it even easier to create a WordPress blog. If you get stuck on any step, you can always send me an email at trueandpretty.com or open Live Chat on Bluehost.
After setting up your password, you should be directed to select a theme for your WordPress site. Your screen should look like this:
You will be asked to pick a theme. You can choose any theme here, just pick one that inspires you. You can always change it later so it's not a big deal. There are lots of free options too, so if you prefer to skip this step, just scroll to the bottom of the page and click "skip this step".
 After you select a theme, click on "Start Building".
The next screen will ask what kind of site you would like to set up: "Business" or "Personal". 
Click on Business option. (it doesn't matter if you don't have an actual business started yet – this is the first step in that process!). You will then be taken to a dashboard that looks like this:
CONGRATULATIONS! YOU DID IT!
Now you can log into your WordPress dashboard and start blogging — this is the part I know you've been waiting for! The URL for your dashboard should be: yourblogname.com/wp-admin/
If you want to upload a different WordPress theme, you'll need to click "Appearance" on the left-hand side of your WordPress dashboard, then select "Themes".
There are also a ton of free themes, and here's a great list of them that you can try: https://colorlib.com/wp/free-wordpress-themes/
You can also head to premium theme websites, such as StudioPress or Foodie Pro  (I love Foodie!) among others and buy your favorite theme. With time, if you get bored with your blog's appearance, you can simply change themes without affecting your images or content, thanks to the excellent feature by WordPress that allows users to switch themes with a few clicks.
For more information about all the blogging tools, I use for? True&Pretty, feel free to check out my Resource Page.
Here are some helpful posts to help kick-start your blogging journey:
Growing Your Blog Traffic:
Making Money From Blogging:
Blogging Resources & Tools:
If you have any questions about starting a self-hosted WordPress blog, please leave me a comment or send me an email at trueandpretty.com. I'm more than happy to help you, that's what I'm here for!
If you know someone that wants to start a blog or website, please share this tutorial with them!
Now What?
Congrats! You have your own blog.
Now all of the real work begins. What? You thought just getting it set up was the hard stuff? No way.
It's time to start writing and getting people to your site. If you're wondering how you can get more traffic to your new blog then check how this guide on how to get blog traffic.