My parents worked hard to ensure that I had the kind of living that I had. We weren't poor but we were just a bit above that line.
I hated seeing them bust their butts only to come home tired because then they had to take care of me. That meant helping me with homework or taking me to soccer practice. I can only imagine how draining that must've been.
I'm thankful for the hard work they put and forever in their debt even though they will just tell me, 'that is what parents do.'
I think the dream of most parents is to be able to spend as much time as possible with their kids and provide them with every opportunity possible to succeed.
But most of us don't have all of the time in the world because we need to make money. Some of you are even working multiple jobs to make ends meet so spending time with your kids is even more of a challenge.
Thankfully, the Internet has made the option of pursuing a side hustle possible.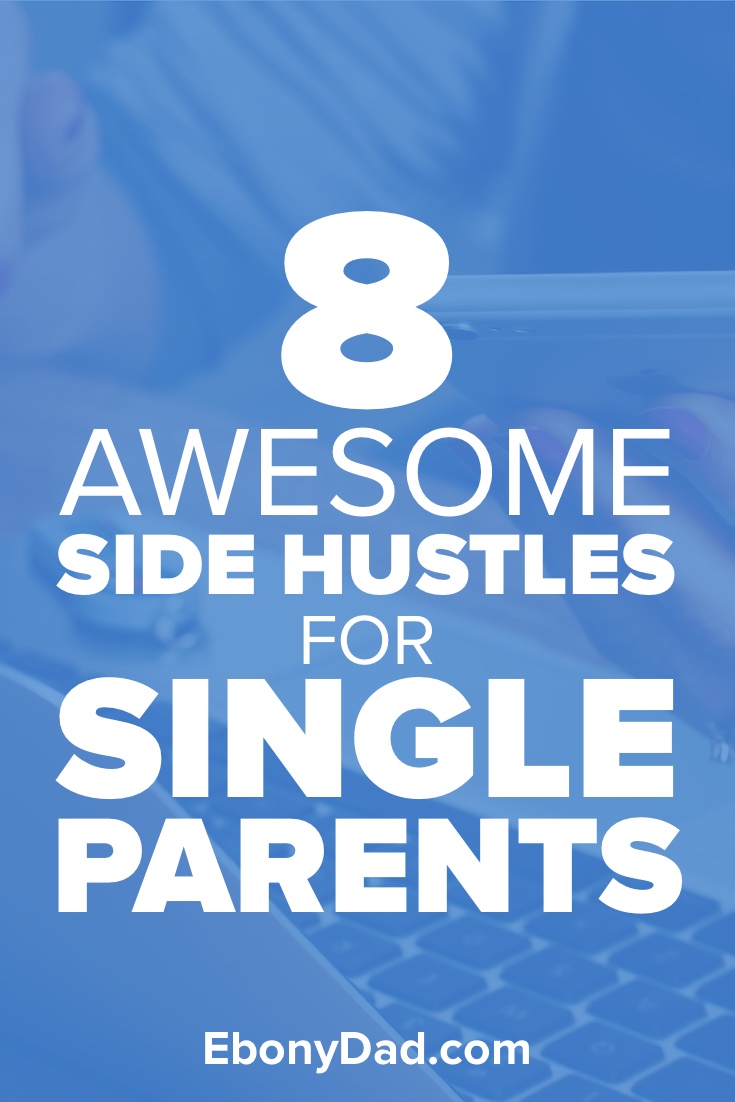 What exactly is a side hustle?
It's smaller tasks that you do to earn money on the side (ideally). Back in the days being a paperboy was a side hustle.
However, being a parent you probably don't want to hop on a bicycle and throw papers on a lawn through sprinklers.
With the Internet, you don't have to worry about such things. You get to sit in your most comfortable chair, grab your laptop, and do some hustling that can bring in money.
In the short term, none of these things will make you rich but that isn't the main goal of a side hustle. Sure, it can be a nice side effect, but the main goal of side hustling is to help you build up your money.
Most people start side hustles while they have full-time jobs and they begin to build up their nest egg. Eventually, some people are able to quit their jobs and pursue their side hustle on a full-time basis.
8 Side Hustles for Busy Parents
These side hustles are not for everybody. I hate to break it to you but not everybody has the hustle in them.
Working a full-time job, doing a side hustle, and being an awesome parent requires a ridiculous amount of work. Most people aren't up to it and I don't blame them.
However, if you can sacrifice a little bit of sleep and some other things then you will find that your little side hustle can turn into a business that offers you the freedom to set your own schedule and spend more time with your kids.
That is the ultimate dream.
1. Blogging
You know I had to start off with blogging.
Blogging is one of those things that on the surface seems extremely easy.
You open up WordPress (or some other blogging software)
You write a post
You press publish
???
Profit
It's filling in that fourth step that is the difficult part and that fourth step actually contains a lot of little steps. What's awesome about blogging is that there are a number of different ways to make money with it.
Blogging helps you build relationships and share your experiences with the world to help out others.
One thing to keep in mind is that blogging isn't a quick money type of side hustle. It takes time so if you need money before this weekend, starting a blog isn't going to make it happen.
If you want to dive into the world of blogging then check out this simple guide to starting a blog for moms and dads.
2. Freelance Writing
This is similar to blogging but you are blogging for other people.
One of the common misconceptions about becoming a freelance writer is believing that you need to be a professional writer. That's just false. You just need to have a decent grasp of whatever language you are writing in.
What's funny about becoming a freelance writer is that one of the best ways to get started is by starting your own blog. The reason why is because the freelance jobs you apply for will want to see reference articles from you and it's much easier to point them to your blog than it is to write something new every single time you apply.
If this sounds like your kind of side hustle then here are 67+ paid writing opportunities that you can check out.
3. Social Media Manager
Every brand is on Twitter, Facebook, Instagram, and Pinterest and many of them are just too busy to run them by themselves. They need help.
You can provide them with that help.
Becoming a social media manager means you are in charge of posting updates, responding to the audience, and in general keeping things humming along. This seems like it can be a busy job and it can be if you don't use any social media tools.
There are a number of social media tools available to you that allow you to automate a lot of your social media posting. So when you're up late at night watching Netflix you can load up the queue of your client's accounts and not have to worry if posts are going out or not the next day.
You will need to acquire some knowledge of social media habits across the different platforms. Social media is more than just posting random updates.
For example, if your client wants to do a new promotion, what are the best times to post those updates across social media? What if they want to start running ads? These aren't the most difficult things in the world to pick up, but they are things that you need to keep in mind.
You don't have to go after large companies. You can stick with small businesses in your area and then expand when you feel like it.
4. Virtual Assistant
I'm a very busy person who likes to think that they can do everything on their own. The smart thing for me to do would be to hire a Virtual Assistant to help me get things done.
Being a Virtual Assistant is a great opportunity to flex your organizational skills (I have none) and help to keep things running smoothly for your clients.
What exactly does a VA do? It varies depending on the client.
You could be tasked with doing a number of different things:
Running social media
Organizing a publishing schedule
Being a moderator for comments
Helping people out during webinars
Those are just some of the things that you can expect to be tasked with.
5. E-Book Author
We live in a wonderful time where anybody can be an author.
Many people are making 4-5 figures monthly from Amazon from their little e-books.
Nobody is asking you to be the next Stephen King (does anybody actually want to be the next Stephen King?), you just need to be the first you.
6. Course Creator
I love teaching. It's a great way to take what you've learned over the years and share with others.
Every day millions of people are searching for ways to do X. What is X? It can be almost anything.
If you don't think you are an expert enough in a certain topic to teach it, don't be so silly. You definitely know more about something than most people or at the very least you know enough than the people that are one level below you.
Maybe you know how to make fancy napkin birds for dinner parties. That's something that people would love to learn about and you can actually create a course based around that.
The sky is the limit when it comes to teaching and if you don't want to worry about technology then you can use one of the free course hosting services like Udemy or Skillshare.
7. Take Surveys
This one might be the easiest of all the side hustles because all it requires you to do is fill out survey forms online.
That's it.
Now, you won't get rich from this, but if you're just looking for a couple hundred extra bucks a month this is a great solution for you.
A word of warning: not all survey sites are created the same. Some are just downright scams and others have such low payouts that they aren't worth your time. If you need help figuring out which ones you should check out then here are 7 awesome survey sites that pay cash.
8. Website Tester
Did you know that there are companies out there that will pay you to test websites?
All you have to do is visit a website, click around for a bit, and then answer some questions.
That's it!
There are a couple of sites that will pay you to do this and many of them require that you pass an initial test. The tests aren't hard, but they do make sure you understand the Internet a bit.
This is a great way to make $10-$30 for 20 minutes of work.
Choose Your Time
I chose these side hustles because they aren't required for you to be available at specific times. You should be able to do any of them whenever you have free time available.
Just because they involve sitting at your computer don't assume they are easy. There are thousands of individuals trying to do the same side hustles so there is competition.
However, with a bit of work you can find your own little spot in the world of side hustling that will allow you to thrive.